LORDESS by THE GARDEN // performing arts
Tanzperformance inspiriert durch die queere Künstlerin Lorenza Böttner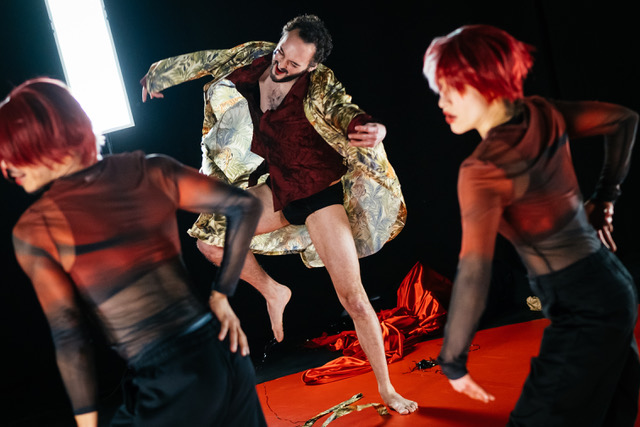 Das zeitgenössische Tanzstück LORDESS von THE GARDEN // performing arts platzt voller Lebenslust mitten rein in den Diskurs um Sexualität, Gender, konstante Transformation und Performance. Der Körper als politischer Diskurs auf der Bühne und die schöne Kunst als Fundament für Bewegung. Inspiriert durch die queere Künstlerin Lorenza Böttner zeigt das Stück, was möglich ist – unter der Prämisse, dass die Grenzen von Kreativität und Kunst nicht von unseren Körpern oder unserer Vorstellung von Normalität abhängig sind. Foto: Simon Wachter
HAMBURG //  28. & 29 April Monsun Theater *Premiere 
ROMANIA  - TIMISORA //

24. Mai

 

TESZT Festival 2023 
BERLIN // 

1. Juni

 Village Berlin 
ESSEN // 

10. Juni

 Rü-Bühne Essen 
KÖLN //  

29. Juni

 Barnes Crossing 
(Gefördert durch den Fonds Darstellende Künste, die Allbau Stiftung, das Kulturamt Essen, beWEGEnd.e.V, in Kooperation mit SZENE 2WEI, Theater im Depot, Rü-Bühne Essen und dem monsun.theater in Hamburg)
Tanz:
Jose Manuel Ortiz
Clément Debras
Fernando Balsera
Mercè Mayor
Manuela Aranguibel
"Lorenza Böttner
war eine Künstlerin, als Ernst Lorenz Böttner in einer Familie deutscher Herkunft in Chile geboren. Im Alter von acht Jahren verlor sie durch einen Unfall beide Arme und siedelte zwölfjährig mit ihrer Familie in die Nähe von Kassel über, u.a. um sich dort einer Reihe von plastisch-chirurgischen Operationen zu unterziehen. In ihren künstlerischen Arbeiten spielen sowohl die Ausgrenzungserfahrungen durch die Behinderung, die HIV-Erkrankung als auch ihr Leben als Transgender eine prägende Rolle.
Böttner gelang es, trotz der Behinderung an der Kasseler Kunsthochschule Malerei zu studieren. In ihrer Kunst verschwimmen die Grenzen zwischen Alltag und Performance, Straße und Bühne, Malerei und Tanz, Weiblichkeit und Männlichkeit. Ihre Arbeiten gehen offen mit homo- und transsexuellen Fantasien um und feiern den "versehrten" als einen erotischen Körper.
Eine Retrospektive in Stuttgart und Barcelona hat den Nachlass der Künstlerin Lorenza Böttner umfänglich wissenschaftlich bearbeitet, mit rund 200 Arbeiten und persönlichen und politischen Dokumenten Leben und Schaffen gezeigt und konservatorisch und restauratorisch aufgearbeitet.
Erstmals wurde 2019 ihr Nachlass aus Fotografien, Zeichnungen, Malerei, Videos und Performancedokumentationen als große Gesamtschau in Stuttgart und Barcelona gezeigt. Die Arbeiten von Böttner wurden darüber hinaus auch ins Verhältnis zu zeitgenössischen Positionen anderer Künstlerinnen und Künstler gesetzt. Die Schau wurde gemeinsam vom Kunstzentrum La Virreina in Barcelona und dem Württembergischen Kunstverein in Stuttgart organisiert, Kurator war Paul B. Preciado. Er hat für die documenta 14 erstmals Arbeiten von Böttner gezeigt und gilt als ausgewiesener Experte für ihr Œuvre." (s. Württembergischer Kunstverein Stuttgart)

LORDESS by THE GARDEN // performing arts
Dance performance inspired by queer artist Lorenza Böttner
 
The contemporary dance piece LORDESS by THE GARDEN // performing arts bursts full of joie de vivre into the middle of the discourse on sexuality, gender, constant transformation and performance. The body as political discourse on stage and beautiful art as the foundation for movement. Inspired by queer artist Lorenza Böttner, the piece shows what is possible - under the premise that the boundaries of creativity and art are not dependent on our bodies or our idea of normality.
 
(Supported by Fonds Darstellende Künste, Allbau Stiftung, Kulturamt Essen, beWEGEnd.e.V, in cooperation with SZENE 2WEI, Theater im Depot, Rü-Bühne Essen and monsun.theatre in Hamburg)
 
"Lorenza Böttner
was an artist, born as Ernst Lorenz Böttner into a family of German origin in Chile. At the age of eight, she lost both arms in an accident and, at twelve, moved with her family to the vicinity of Kassel, where she underwent a series of plastic surgery operations. In her artistic works, both the experiences of exclusion due to her disability, her HIV disease and her life as a transgender person play a formative role.
 
Böttner managed to study painting at the Kassel Art Academy despite her disability. In her art, the boundaries between everyday life and performance, street and stage, painting and dance, femininity and masculinity become blurred. Her works deal openly with homosexual and transsexual fantasies and celebrate the "disabled" as an erotic body.
 
A retrospective in Stuttgart and Barcelona has comprehensively researched the estate of the artist Lorenza Böttner, showing her life and work with around 200 works and personal and political documents, as well as conservational and restorative work.
 
In 2019, her estate of photographs, drawings, paintings, videos and performance documentation was shown for the first time as a large-scale exhibition in Stuttgart and Barcelona. Böttner's works were also placed in relation to contemporary positions of other artists. The show was jointly organised by the La Virreina art centre in Barcelona and the Württembergischer Kunstverein in Stuttgart, curated by Paul B. Preciado. He showed works by Böttner for documenta 14 for the first time and is considered a proven expert on her oeuvre."


Back